Mortgage Option
Mortgage Eligibilty

Calculator
Quickly calculate Monthly Mortgage
Calculate Eligibility
Mortgage Payment Calculator

Mortgage Amortization

Eligibilty
Find out monthly and annual payments
Calculate Eligibility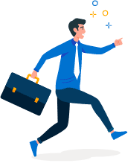 Land Transfer Tax

Eligibilty
Quickly calculate land transfer tax
Calculate Eligibility
Land Transfer Tax Calculator

The complexity of Canadian mortgages can be intimidating. Rental property mortgages differ from traditional mortgages due to their unique characteristics. For instance, they might be simpler to qualify for, provide you with greater cash flow, and even require just a 5–10% down payment.
This blog will easily explain rental property mortgage features, rates, qualifications and eligibility requirements if you're considering purchasing an investment property.
Rental Property Mortgage: Overview
When you buy a rental property, you acquire a home (typically a multi-unit building), find tenants or manage the property on behalf of the current inhabitants while also collecting rent each month and covering the properties taxes. Purchasing a rental property can be an investment that eventually generates real estate income and profit if it is well thought out and implemented.
It is crucial to think carefully about the kind of home you want to rent out. Homes of various types have various obligations. A house with a lawn, for instance, might require more landscaping and lawn care than an apartment complex in the city.
Applying for a mortgage for a home or a rental property follows comparable procedures. The main distinction is that the lender assumes more risk by providing a second mortgage for a rental property. This is so that lenders understand that in the event of any kind of financial difficulty, paying your home mortgage comes before paying rent. Due to this, there is a greater possibility that you will not pay back your loan on the rental property.
Features and Benefits of a Rental Property Mortgage
Rental property mortgage has the following features and benefits:
Rental property mortgage allows a Canadian to be the property owner and pay the amount to the lender at a set pace

Raising a mortgage for a rental property earns extra income, of course, in the form of rent

If a person has lived in the unit for a year, their down payment is most likely to reduce to 5% - 10%

You can get your amortisation period extended to up to 35 years

When your down payment is less than 20%, your access to mortgage default insurance protects your lender if you flunk the mortgage payment

The Return on Investment (ROI) can be calculated by dividing the net operating income by the purchasing cost

You are prone to a higher interest rate if you haven't lived in a unit for a year

50% of the future rental income can be used to qualify for the rental property mortgage

Unlike stocks, the prices of properties are not highly volatile. A rental property mortgage is a lower risk

Upon making the monthly mortgage payment, a fragment of the payments adds up to the outstanding principal balance, computing more equity

There are no restrictions on age or nationality when it comes to rental property
Where To Get Investment Property Mortgage For Rentals?
A growing number of people in Canada are looking at investment properties as the most significant way to boost their wealth because they may be wonderful sources of income for ambitious investors. But first-time owners frequently discover that buying a rental property is far trickier than they had anticipated. This is especially true when it comes to being eligible for that crucial supplementary mortgage—the investment property mortgage.
A primary dwelling and a rental property are not financed in the same way. First-time purchasers should be prepared to meet some rather strict standards before they can expect to be approved for a mortgage because lenders tend to be more cautious about underwriting loans on rental properties. Even though it sounds difficult, it simply requires comprehension. You need to be aware of the additional requirements a lender would impose on borrowers before approving a rental property mortgage and how a rental property is defined legally.
One can get an investment property mortgage for rental through a bank or a private broker. However, the criteria of eligibility will be pretty firm. Because of their experience with other investors and understanding of the unique financing requirements demanded by specific lenders, mortgage brokers may be an even better option to consider when applying for investment property mortgages.
The additional advantages of using a mortgage broker are plain: they just need to pull your credit report once, do all the shopping for you, and look for a product and rate that will fit your financial circumstances. The best thing is that the mortgage broker is compensated for their services by the lender from whom you ultimately obtain financing, not by you.
Why are Mortgage Rates Different For Rental Properties?
The interest you pay on your rental property mortgage depends on how risky the bank perceives you. In order to protect themselves against problems, they will charge higher interest rates on any loans they deem to be riskier.
Banks consider owner-occupied homes less hazardous because they believe that someone buying a home to live in has a lot more at stake and will go above and beyond to ensure their mortgage is kept current. A person who purchases a home only for investment purposes does not require it for habitation. The investment property will be the first asset to go in times of financial difficulty rather than their permanent residence.
How risky the bank views your loan is primarily determined by how much you pay in interest on your mortgage. Based on your financial condition, they'll increase the interest rate.
Investment homes typically lack mortgage default insurance, which means the bank would not be protected in the event of a default by an investor. Due to this, banks and lenders consider rental property to be a riskier investment for them to make using a loan. The bank will often demand a higher interest rate to mitigate the risk. In fact, a lot of mortgage companies won't even consider funding for an investment property.
How to Get a Mortgage for Rental Property?
There are a few notable differences between rental property mortgages and other residence mortgages. There is a high risk involved because of which the interest rate is also high. The lender is more likely to be stringent with their requirement. Lenders tend to focus on the borrowers credit score, down payment, and debt-to-income ratio. The same factors apply to rental property mortgages, but the borrower will most likely be scrutinised for a higher credit score and a higher minimum down payment. On top of that, the lender may look closely at the borrowers employment history and income.
Document Requirement for Rental Property Mortage
Rental property mortgage requires the following documents:
Employment & Income Documents
Pay Stubs

T1 Tax Forms

T4 and T4A

Notice of Assessment

Employment Letter

Personal Tax Returns of 3 years (Self-employed)

Incorporation Business Article (Self-employed)
Personal Financial Documents
Credit Report

Bank statement for the past six months

Assets or investment information

Pre-approval letter (if applicable)

Any other source of income (if applicable)
Down Payment Documents
Savings and investment statement for the past three months

RRSP withdrawals (if applicable)

Gift letter (if applicable)

Existing property sale agreement
Property Documents
Other Owned Properties (if any)
Recent mortgage statements

Rent Agreement or lease

Address of the properties
How to Qualify for an Investment Property Mortgage?
In Canada, the following is required to qualify for an investment property mortgage:
A credit score of 640 is considered acceptable for better rates and terms, whereas a credit score of more than 750 will earn you even better with lower interest rates.

You must have at least 15% - 20% amount of the down payment ready

If your Debt-to-Income ratio (DTI) falls between 36% to 45% to qualify for an investment property mortgage

Your savings must take care of at least three months worth of your mortgage payments.
If your down payment is less than 20%, then you must qualify for the following:
Have 1-4 units and residential zoning

The purchase price should be within CAD 1 million

You must reside in one unit for a year at the minimum
You will be an ideal applicant for an investment property mortgage if you qualify for the specifications mentioned above. You can also use 50% of your future rental income to qualify.
FAQ's
Ans. Your investment property mortgage provides fixed, variable, and adjustable mortgage rates, an LTV ratio of 80% on 1-4 unit rental property and offers an amortisation period of 30 years which can be extended.
Ans. Yes, rental income counts when applying for a mortgage.
Ans. When presenting your finances, you must provide your rental income to your lender to qualify for a mortgage.