Buying a home is the most fascinating experience of a person's life, albeit an expensive one. A person has to most likely apply for a mortgage loan unless they are as rich as Croesus. But panic strikes when the reports of lower home prices and dropping interest rates flourish, and the people wish to seize the opportunity and become a homeowner. What they don't realise is that this haste may deny them their mortgage approval.
Being the owner of your own place has its own set of disappointments. To save yourself from such heartaches, educate yourself on the mortgage approval process and how to get approved for a mortgage.
Mortgage Calculators
Mortgage Eligibilty

Calculator
Quickly calculate Monthly Mortgage
Calculate Eligibility
Mortgage Payment Calculator

Mortgage Amortization

Eligibilty
Find out monthly and annual payments
Calculate Eligibility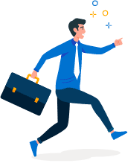 Land Transfer Tax

Eligibilty
Quickly calculate land transfer tax
Calculate Eligibility
Land Transfer Tax Calculator

Steps to Get Approved for a Mortgage
Getting your mortgage application approved is a difficult and tiring process. In Canada, the following steps can help your mortgage application get approved in a hassle free manner:
Initial Discussion:Here, the amount of loan the borrower can be sanctioned is discussed. The situation of the borrower is made known to them.
Application and Documents:In this step, the application process is started and the borrower is informed about the documents they will need to provide.
Pre-Approval: Once the application is completed, the documents start to flourish. The step of pre-approval is a great way to know if any threat is lingering on your mortgage approval.
Lender Underwriting:Once the mortgage is pre-approved, the lender provides an underwriting mentioning the property details and the deadline for finance.
Conditional Commitment Processing:When the application meets the lender's underwriting, there will be a commitment received by the lender. The conditions here will be that the borrower needs to provide documents related to the income, assets, employment, property details and value.
Pre-Closing:The pre-closing step is where the borrower's lawyer registers the mortgage with the Land Titles Office or transfers the property under your name in the case of purchase.
Closing: This is the last step in the mortgage approval process. On the date of funding, the loan amount is transferred to the lawyer's trust account by the lender. The lawyer then transfers the money to the respective owners.
Where Can I Get a Mortgage?
A person can get a mortgage at a bank, credit unions, trust companies, loan companies, mortgage companies and insurance companies. The rate of interest may vary from lender to lender. Mortgage brokers find a lender for you instead of lending themselves. Your chances of getting your mortgage application approved skyrocket if you use the following tips:
Credit Score
Your financial health is reflected through your credit score. A mortgage lender will check your credit score to assess your trustworthiness. In Canada, a credit score varies from lender to lender, however, it usually ranges from 300 to 900 putting the borrowers in any one of the five categories: Poor, Fair, Good, Very Good and Excellent. The higher the credit score, the lower the mortgage interest rate. In Canada, 660 is considered to be the ideal credit score.
One can increase their credit score by making bills and loan payments on time and avoiding using credit too much. Equifax and TransUnion are two Canadian credit bureaus that can provide you with your credit score information, even the online ways of checking the score will pull out the data from these bureaus.
Prepare for Mortgage Documents
Once the lending agency is finalised, the step of mortgage documents preparation arises. The documents one needs to prepare for a mortgage can be divided into employment verification, personal finance, down payment, details of the property and other properties owned (if any). Preparation of documents comes in handy as you're a step ahead in this process. The following is a detailed list of the documents needed:
Recent Pay Stubs
T1 General tax form
Notice of Assessment
Letter of Employment
T4 and T4A
Articles of Incorporation or Business Licence
Bank Account Information
List of Assets and Investments
Credit Report
Pre-approval letter
Savings and investments statement for the past 90 days
Agreement of Purchase and Sale of your existing property
RRSP Withdrawals (HBP)
Gift Letter
Real Estate Listing
Accepted Purchase and Sale Agreement
Address of the property
Recent mortgage statement
Final Property Tax Bill
The full physical address of all additional properties owned or partially owned by the borrower
Rent or Lease Agreements
Maintain a Stable Income
Income and loans have always been good friends. The borrower needs to have a stable source of income in the wake of mortgage approval. A lender finds it to be a risky deal to lend a borrower an amount that they might not be able to repay. Without a stable income, the borrower is a risk as long-term income is not guaranteed.
If a person is self-employed then they need to provide the lender with proof that they've been earning well for several years. However, this process can work out differently, for which it is better for self-employed buyers to hire a mortgage broker as they tend to know the process a whole lot better and can link to a lender willing to provide credit to self-employed people.
A person should not switch a job before the major process of mortgage approval is carried out. A person working as a freelancer or has a casual job might want to look for something more stable till the mortgage is approved.
Prepare the Down Payment
Down Payment refers to the payment made towards the purchase of a home by the buyer out of their own pocket. It is the difference between the loan borrowed and the home price. For a person who has a good amount of downpayment saved, the amount of mortgage reduces, therefore, the rate of interest decreases as well. Needless to say, it is good to save loads of cash because let's be honest, you are doing yourself a favor. A large down payment means less mortgage which improves your chances of getting mortgage approval.
You need to prepare a certain amount of down payment in Canada when buying a house. This is calculated on a percentage basis. The minimum down payment required for purchasing a house is based on its price. The requirement is as follows:
| | |
| --- | --- |
| Less than CAD 500,000 | 5% of the purchase price |
| CAD 500,000 - CAD 999,999 | 5% of CAD 500,000 and 10% of the rest of the amount |
| More than CAD 1 Million | Minimum of 20% of the purchase price |
A down payment of less than 20% of the purchase price leads the buyer to avail the mortgage loan insurance. Hands down, preparing a large down payment is one of the most important tips on how to get approved for a mortgage.
Reduce Outstanding Debt
A debt increases the amount of interest going out of your pocket so it is better to repay your existing debts before applying for a mortgage. If the mortgage lender finds out the borrower has no previous debts, the chances of getting mortgage approval increase. Before approving the mortgage, lenders calculate your debt-to-income ratio to determine how much of a credit risk you are.
A balance has to be struck between the debts you pay off monthly and the income you earn in a month and should be no more than 36%. Apart from the view of the lender, reducing outstanding debts will lessen the load on your wallet. A mortgage loan is a long time commitment and one more debt to pay off.
One can reduce their existing debt by the following methods:
Increasing their income
Cutting out on some purchases
Not taking any large loans
Consolidate multiple debts
Paying off the debts with higher interest rates
Know What You Can Afford
It is always better to be smart about your finances because then you know what you can afford. It isn't just the mortgage that fulfills your requirements of buying a house but you need money for paying inspection fees, house closing costs, moving charges and any other expenses that might arise in the process. Apart from the expenses related to the house are the personal expenses that incur in a person's life. These may be planning to have a child, taking care of parents, buying a new car, school fees etc.
It is always better to know what you can afford and what you can't. This may save you a large amount of money or better, debt with high interest. Sometimes a lender is willing to lend you more than you desire but it would be better to control your drool for a bigger and better house. Set your sights on a house within your budget. It won't raise your interest rate and will maintain your DTI ratio. It is better to resist the temptation and save every dollar you have.
Get a Mortgage Pre-Approval
Mortgage pre-approval is where your financial situation is approved by the lender and you are pre-approved for the given mortgage amount, interest rate and term. The pre-approval lasts for 90-120 days providing you with ample time to search for the house of your dreams. A lender factors in the borrower's DTI ratio, assets and liabilities, credit score, amount of down payment and the employment status.
Getting a pre-approval is the third step in the mortgage application process. It is beneficial to the borrower as it allows them to seek a house within their budget.
How Long Does it Take to Get Approved for a Mortgage
Mortgage approval is a turning point for a person dreaming to buy a house. In Canada, the duration of mortgage approval differs from one province to another. It usually takes 11 to 25 days for a mortgage to be approved in Canada. It is a good idea to get started with the mortgage approval process as soon as the house price is finalised with the seller. The pre-approval steps in each province are nearly the same.
In conclusion, mortgage approval can easily be boosted. The house that compliments your lifestyle is right around the corner, take a mortgage and follow the above tips to light it up!
FAQ's
Ans: Getting a mortgage becomes easier when the borrower has a large sum of down payment, has paid off any previous debts and has a stable income.
Ans: The mortgage lenders look for various factors. Some of them are the borrower's credit score, payment history, debt-to-income ratio, income and employment history, assets and liabilities, and amount of down payment.
Ans: The chances of getting approved for a mortgage increase if the borrower follows very simple tips. The borrower must check their credit score, aim for a budget-friendly house, stabilise income, and not take any major life-changing decisions.
Ans: When trying to get a mortgage, one must tread the waters carefully. The borrower should not fall behind their bills, switch jobs, drive up their debt or even marry someone with a bad credit score.