Are you dreaming of owning a home but finding it difficult to come up with a down payment? It's not just you! For young Canadians trying to buy a home, the intimidating idea of putting together a huge down payment frequently presents a problem. Even a 5% down payment can seem excessive given the skyrocketing cost of homes in big cities.
However, there is a reason for comfort because there are "No Down Payment Mortgages in Canada!" Intrigued? Explore our blog to learn more about minimum downpayment mortgages, borrowed mortgage options, and make your route to homeownership affordable!
Mortgage Calculators
Mortgage Eligibilty

Calculator
Quickly calculate Monthly Mortgage
Calculate Eligibility
Mortgage Payment Calculator

Mortgage Amortization

Eligibilty
Find out monthly and annual payments
Calculate Eligibility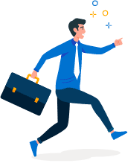 Land Transfer Tax

Eligibilty
Quickly calculate land transfer tax
Calculate Eligibility
Land Transfer Tax Calculator

How Does Down Payment Work in Canada?
A $0 or minimum down payment mortgage operates similarly to a traditional mortgage, but with one key distinction: You don't have to pay any money upfront when the deal closes. Instead, the lender pays for both your down payment and mortgage. There is a caveat, though: if the mortgage lender is a bank or federal trust organisation, Canadian law forbids borrowers from borrowing their down payment from that lender.
But don't worry—a fix is available! By contacting an alternative lender, you can still obtain the funding required for a down payment. Despite not being a typical bank or federal trust business, this alternative lender specialises in giving money exclusively for down payments. Consequently, after obtaining financing for your down payment, the process becomes easier.
In the same way that you would with a bank for your standard borrowed mortgage, you'll start making regular payments to your alternative lender. These payments will eventually pay off the loan you took out to make your down payment.
Another catch to this, it's important to understand that the only upfront payment is to pay the typical closing costs related to the purchase of the home. Here, closing costs are the financial burden, which are separate liabilities from your down payment. These include land transfer charges, legal fees and home inspection services, to name a few
Keep in mind: Before making a mortgage decision, always do your research and make sure you understand the terms and circumstances well. This will help you make an informed decision and enable you to move into your new home without experiencing undue financial burden.
Payment Assistance Programs by the Government in Canada for First-Time Homebuyers
It can be challenging to purchase a home for the first time in Canada, particularly when it comes to setting up the down payment. Fortunately, there are a number of payment assistance programmes accessible to simplify the procedure. Let's look at a few of the programmes that can help you realise your ambition of becoming a homeowner.
First-time Homebuyers Incentive:
A public programme allowing the government to finance a portion of first-time homebuyers' mortgages through shared equity.
In this case, the government shares in the property's appreciation and depreciation as a co-owner.
For approved buyers, the programme seeks to cut overall costs and monthly mortgage payments.
Home Buyers Tax Credit:
A $750 tax credit that is specifically created for first-time house buyers.
This credit, which provides some financial support during the early stages of homeownership, can be claimed when submitting annual income tax returns.
Plan for RRSP Home Buyers:
Under this programme, first-time homebuyers are exempt from penalties when they withdraw up to $35,000 from their Registered Retirement Savings Plan (RRSP).
Buyers can access their money while still being able to delay taxes by using RRSP savings.
GST/HST Rebate on New Housing:
Canadians purchasing newly constructed homes may be eligible for a Goods and Services Tax (GST) rebate.
The refund attempts to partially offset the federal taxes incurred on the acquisition of a new home.
Those who invest in recently built homes benefit financially from this.
Provincial Land Transfer Reimbursement:
For first-time homebuyers, certain governments, including British Columbia, Prince Edward Island, and Ontario, provide a partial land transfer tax reimbursement.
During the closing procedure, the land transfer tax is a required expense; this rebate lessens the overall financial burden.
Down Payment Assistance Programmes:
These initiatives provide first-time homeowners with a loan for a down payment that is interest-free, bridging the gap in their finances.
Although provincial differences may exist in terms of eligibility requirements and loan terms, they are all intended to increase accessibility to homeownership.
Currently accessible in Prince Edward Island, Nova Scotia, and Manitoba.
Pros and Cons of Borrowing for a Down Payment
Bringing you clarity over the borrowed mortgage so you can make the right choice.
| | | |
| --- | --- | --- |
| 1 | No more renting: Money spent goes towards home ownership | Falling house prices: Risk of owning more than the house's worth if prices fall |
| 2 | Avoid mortgage default insurance: Save thousands of dollars | Lower equity: Insufficient equity for accessing a HELOC |
| 3 | Grow wealth: Earlier home ownership builds more equity | Increased debt: monthly payments and potential impact on debt to service ratio |
Types of Loans You Can Use as a Down Payment
There are several resourceful ways to obtain your down payment without needing to hold out for a very long time. Let's investigate some original options:
Borrowed Low Down Payment Mortgage: For people who don't have a sizable down payment saved up, this is a great choice.
Line of Credit: If you need help with a down payment, a line of credit may be the perfect solution.
Personal Loan: If your financial situation is sound, a personal loan can be an option. It enables you to buy your ideal home without having to wait years for savings.
Special Government Programs for Lower-Income Families with a Down Payment
If you are looking forward to any of the low-income down payment provisions, check out the table for complete details given below:
| | |
| --- | --- |
| Saskatchewan | National Affordable Housing Corporation's Down Payment Assistance Program |
| Nova Scotia | Down Payment Assistance Program (DPAP) |
| Manitoba | Down Payment Assistance from Manitoba Housing |
| New Brunswick | Home Ownership Program |
| Prince Edward Island | Down Payment Assistance Program (DPAP) |
| Canada | First-Time Home Buyer Incentive |
Varied Options for First-time Homebuyers to Avail a Mortgage Loan
Here are some options for first-time homebuyers to get a mortgage effortlessly:
Personal Loan: One of the best ways to pay for the down payment on a home is with a personal loan. Together with a financial lender, you can come up with a repayment strategy that works for your budget. With this choice, you may manage your down payment costs with more freedom.
Low Down Payment Mortgage: If you don't have the resources necessary for a sizable down payment, you might want to think about a low down payment mortgage. With this choice, you can obtain a loan from a lender, such as a bank, for a portion of the down payment. Make sure you are familiar with the conditions and interest rates related to this kind of mortgage.
Line of Credit for the Down Payment: Opening a line of credit may be a good way to get a better interest rate. It's important to keep in mind that you cannot utilise the same lender for both the mortgage and the line of credit used for the down payment.
Money Lending from Relatives: Around 30% of Canadian homebuyers will use this popular choice in 2020, with assistance from their families. If at all possible, think about asking your relatives for financial support since they might not charge interest or demand rapid payback.
How to Calculate a Down Payment on a House
Try out our loan calculator for mortgage purposes and get an instant and accurate estimate now!
How to Pay Off A Mortgage in Canada
Have a glance at the supreme ways by which you can clear off your mortgage loan in less than the promised tenure:
Use the lender's accelerated payment option to make your mortgage payments more frequently (weekly or bi-weekly) rather than monthly, which will eventually lower your interest rate.
You can shorten the length of your mortgage and reduce your interest costs by making periodic lump sum payments towards your principal.
Talk to your lender about your plans to pay off your mortgage sooner; they may be able to provide you with helpful suggestions and solutions.
End Thoughts
The borrowed mortgage loan available in Canada is a bright sign of hope that will lead you to the house of your dreams. You can easily traverse the real estate market with this cutting-edge choice. Enjoy being an owner without stressing over up-front costs. May your tenacity and perseverance guide you to your own sanctuary as you set out on this thrilling voyage. I hope you get the keys to your first house soon—a place that will be full of affection, joy, and priceless memories. Happy home searching!
FAQ's
Ans: Buying a house with no down payment mortgages doesn't mean you don't have to put money as an upfront amount. It just means you're not spending your own savings and hard-earned in making down payments.
Ans: One of the largest obstacles to purchasing a home in Canada, particularly if it's your first, can be the mortgage down payment. In Canada, you are supposed to pay at least 5% of the property value as a down payment especially if the property is not more than $1,000,000. Additionally you will have to bear the insurance costs too.
Ans: According to analysis, it is anticipated that Canadian mortgage rates would stay low. However, the prediction indicates that there is potential for a 1.25 percent gain in 2022.
Ans: The sort of mortgage you wish to employ will determine the credit score requirements. A conventional mortgage seeks a 620 score as a minimum credit score. It clocks in at a score of 580 for an FHA loan, whereas it clocks at 580 or above for a VA loan.