The down payment is the first step towards achieving the dream home in Canada. However, the skyrocketing house prices in many of the country's largest cities make down payments difficult to provide. Additionally, 5% of the buying price that the borrower is supposed to pay as an upfront amount is usually more than most people can afford. This led to the introduction of no down payment mortgage in Canada.
The key idea is to make mortgages accessible for everyone and a zero down mortgage stands as a beacon amidst this situation. So it is relatable that whenever you hear about the possibility of a no-down-payment mortgage, you'll want to give it serious thought.
Without further ado, let's dig deep about no down payment mortgages, to put forward the best financial decision that falls within your budget.
Mortgage Calculators
Mortgage Eligibilty

Calculator
Quickly calculate Monthly Mortgage
Calculate Eligibility
Mortgage Payment Calculator

Mortgage Amortization

Eligibilty
Find out monthly and annual payments
Calculate Eligibility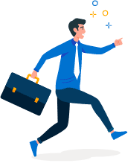 Land Transfer Tax

Eligibilty
Quickly calculate land transfer tax
Calculate Eligibility
Land Transfer Tax Calculator

What is a No Down Payment Mortgage?
When you buy a house with no down payment saved, it doesn't mean you won't have to make one. No down payment mortgage means you won't be using your hard-earned money to pay for it. Simply saying, the upfront amount that you are supposed to pay will be borrowed from a bank or mortgage provider.
This amount usually accounts for five percent of the mortgage value in Canada. So, technically you will end up securing even more debt. Additionally, it becomes crucial to understand your financial situation before taking on more debt, as you have to repay it too. It is advisable to consider your financial situation and repayment ability before taking on additional debt.
Lenders recognise this requirement and provide a few mortgage choices with low or no down payment. Lenders provide a variety of solutions to help homeowners put down a down payment on a home. Grants, mortgages along with other assistance programs are offered around the country to cater to first-time homebuyers to finance a down payment.
These funds can also help the borrower deal with the closing costs. One such program is the Down Payment Assistance Program (DPAP). This program assists Nova Scotians with low income in pre-qualifying for a conforming mortgage.
Numerous programs are designed to cater to this sort of requirement. These programs are named Second Mortgage Down Payment Assistance programs which provide low-interest or no-interest mortgages. Additionally, the best thing about such assistance is that if you stay in the mortgaged home for a specific tenure, you will not have to repay this amount. You get the option to borrow funds to make a down payment only if you are securing a mortgage from a bank or licensed trustee.
Although Canada's government outlawed zero-down mortgages in 2008, it is still possible to get a mortgage with no money down by borrowing a small amount.
How Does a Down Payment for Mortgage Work in Canada?
Before we dig deep into no-down-payment mortgages and the various ways to avoid saving for a down payment, it's crucial to understand how a down payment works. According to the CMHC, for properties selling for less than $500,000, a down payment of five percent of the property purchase price is required. However, if the property selling price is more than $500,000, a down payment of 10 percent is required.
Let's go through a quick example to understand how the down payment works in Canada. To purchase a condo in the Toronto area you will have to pay an average price of $688,137. If you decide to secure a mortgage to purchase the condo, you will be liable to pay an upfront amount of $68,813 i.e. 10% as a down payment.
But, at the same time, if you decide to purchase a property in Calgary whose average price is $263,480, you will have to pay an upfront amount of $13,174 i.e. five percent of the property value.
The CMHC demands mortgage default insurance for all mortgages with a down payment of below 20%. This adds another wrinkle to the financial system. This can increase the overall costs that you will have to bear for securing a mortgage to own your house. Additionally, the mortgage insurance premiums can be as high as 4% when a 5% down payment is used. If you want to avoid the add-on insurance fee then you will have to pay 20% of the property value as a down payment while securing a mortgage.
How Does a Zero Down Mortgage Work?
When you decide to borrow money to cover the costs of your down payment it is termed a zero down mortgage. Additionally, there will be no need to pay any closing costs through your hard-earned money. Everything will be taken care of through the second mortgage that you will secure to cope with the associated costs and downpayment.
Of course, it is crucial to be aware of closing costs, which are the fees and services required to complete the transaction. This covers costs for things like house inspection services, property transfer taxes, and legal fees. Down payment does not cover these costs and expenses. To pay for these expenses, you will need to find independent money.
When you apply for a mortgage and get a specific amount of the property value, let's say 90%. You will be required to submit the remaining amount to the lender with respect to down payment. In the case of a zero-down payment mortgage, you will secure this money through assistance programs or second mortgages. Once you get the desired financing through any said alternative, submit this amount to your lender to get the sanctioned amount for your house purchase.
Pros and Cons of No Down Payment Mortgage
One of the biggest decisions you'll ever make is purchasing your first house. And doing so with an upfront amount or down payment mortgage makes an already complicated procedure even more difficult. The following are some benefits and drawbacks of pursuing a mortgage without down payment:
Pros
By paying off a mortgage instead of monthly rentals, you increase your real estate equity. Each mortgage payment helps you to come one step closer to fully owning your house by reducing your debt.
It might be very difficult to put together an upfront amount of 20% of the purchasing price. However, you can save thousands of dollars and cut down on your monthly mortgage payments if you count on borrowing money with at least a 20 percent down payment.
Cons
The fact that you will be bound to service two mortgages rather than just one home loan is the single largest drawback of no down payment mortgage in Canada. You run the risk of overstretching yourself if you have obligations like vehicle loans, maintenance expenses, or maybe credit card payments.
Additionally, you are subject to changing interest rates. You will be responsible for greater mortgage payments if the benchmark interest rate rises specifically at the time of mortgage renewal after five years. You must confirm the stability of your prolonged financial outlook.
Make your final decision, after considering the positive and negative aspects of the no-down mortgage.
Eligibility Criteria for No Down Payment Mortgage in Canada
To be eligible for a no down payment mortgage, the borrower will have to meet certain eligibility criteria.
It's a good idea to be aware of the factors the lender will take into account while examining your application. Here are two crucial elements that lenders consider while sanctioning a no down payment mortgage:
Employment:
You must have a strong financial foundation and a consistent income, as we have explained. Your employment should be steady and your income should be sufficient to allow you to make loan and mortgage payments without clearly experiencing financial hardship.
Credit Rating:
Although you don't need to have excellent credit to get a down payment mortgage, your score shouldn't be too low either. Your cause for debt application will undoubtedly benefit from a track record of timely payments and a healthy credit profile.
How to Apply for No Down Payment Mortgage?
Applying for a no-down payment mortgage is somewhat similar to applying for any other type of mortgage. You'll still need to get down with the tedious paperwork, and present proof that you satisfy the qualifications for your chosen loan type. Try and engage with your lender to ensure they have all the information they need to finish the underwriting process.
The specifics of the entire procedure may differ significantly depending on which no-down-payment program you choose to move further with. You must engage directly with an authorised mortgage lender who provides USDA loans in your area if you want to apply for one. The U.S. Department of Veterans Affairs must issue you a certificate of eligibility before you can apply for a VA home loan; occasionally, the lender you choose will assist you with this paperwork.
Check with a counselor in your area as the HFA loan application process differs by state. You might need to work with both the HFA and your lender, on the basis of the chosen assistance. Be prepared and organised beforehand with all the required documents that both parties might ask for while moving forward.
Now is the time to consider the option of purchasing a house with no down payment if you are currently trying to save up for a down payment on a property but are struggling with how long it is taking. Making a decision early on will give you plenty of time to take your time, make all the required arrangements, and do all the essential actions.
Just keep in mind that house purchase with no cash on hand is a serious decision and that just because you qualify for a mortgage and another loan to cover your down payment, it doesn't necessarily mean that this is the best course of action for you. Take your time and weigh all of your options before you make the commitment.
FAQ's
Ans: Buying a house with no down payment mortgages doesn't mean you don't have to put money as an upfront amount. It just means you're not spending your own savings and hard-earned in making down payments.
Ans: One of the largest obstacles to purchasing a home in Canada, particularly if it's your first, can be the mortgage down payment. In Canada, you are supposed to pay at least 5% of the property value as a down payment especially if the property is not more than $1,000,000. Additionally you will have to bear the insurance costs too.
Ans: According to analysis, it is anticipated that Canadian mortgage rates would stay low. However, the prediction indicates that there is potential for a 1.25 percent gain in 2022.
Ans: The sort of mortgage you wish to employ will determine the credit score requirements. A conventional mortgage seeks a 620 score as a minimum credit score. It clocks in at a score of 580 for an FHA loan, whereas it clocks at 580 or above for a VA loan.