Mortgage Option
Mortgage Eligibilty

Calculator
Quickly calculate Monthly Mortgage
Calculate Eligibility
Mortgage Payment Calculator

Mortgage Amortization

Eligibilty
Find out monthly and annual payments
Calculate Eligibility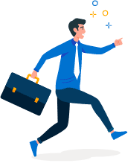 Land Transfer Tax

Eligibilty
Quickly calculate land transfer tax
Calculate Eligibility
Land Transfer Tax Calculator

A Bad Credit Mortgage goes by many names. The two most commonly used are Adverse Credit Mortgage and Sub-Prime Mortgage. Some lenders offer this kind of mortgage to individuals with a poor credit history. Bad credit can be summed up or classified as a situation where an individual may have taken monetary assistance from a financial institution but has failed to keep up with the repayment schedule. Since banks take these very seriously, these individuals are often rejected or disqualified from getting a refinance loan. In extreme cases, people default on their loans and even face foreclosure.
However, various banks and financial lenders specialise in providing solace to their customers with a bad credit history.
Furthermore, all good things must have a price, and the price these individuals pay is a lower loan sanction with higher interest rates and higher down payments.
What Considered Bad Credit In Canada?
A credit score in Canada is moderated by a couple of credit reporting bureaus, namely Equifax Canada and TransUnion Canada. They match statistics and data-based of millions of Canadians and cross-reference the same with other data and time. This helps them make an educated decision based on the individual repayment behaviour and income-debt ratio patterns.
Credit scores are three-digit numbers ranging from 300 to 900 and, depending on a few factors, can keep fluctuating. Lending agencies use these numbers to ascertain whether or not to invest in an individual. What is considered a bad credit score in Canada is, however, a score lesser than 574.
Getting a Bad Credit Mortgage Lender in Canada?
Getting a mortgage in Canada with a bad credit score is not much of a hassle. Lenders can sanction a bad credit mortgage with no minimum credit score requirements. However, that might be like inviting a higher interest rate for a relatively smaller amount of loan. Bad credit mortgages can be said to be lacking in terms of getting financial aid from top banks in Canada. A minimum of 600 credit points or more is imperative for these major banks. However, many B-listed banks and private lenders offer a bad credit mortgage with a few conditions going in their favour.
With a credit score of 750 or more, it is easy to get any major banks to sanction you a loan. Even 700 or more is considered a good credit score, and mainstream banks can gladly invest in your property. However, speaking of a range of 550 to 650 and above, various B-listed lenders can offer support with a bad credit mortgage.
Furthermore, anything below 550 is vastly considered to be a space for private lenders with high-interest rates.
Private Mortgage Lenders for Bad Credit:
Several private lenders and B-listed financial institutions are readily available for customers with a bad credit history. These banks usually charge relatively higher interest rates and limit the duration of the amortisation period to about 6 months to 2 years. These banks also expect the borrower to make a 20% to 25% down payment as a token. Private mortgage lenders are individuals and limited companies that invest their money. This includes Mortgage Investment Corporations, where private investors pool money to fund syndicated mortgages. These lenders are not federally approved or regulated since they do not consider public savings. Some of the private lenders include the following:
| | |
| --- | --- |
| Alpine Credits | Interest Rates from 5.75% with 75% max LTV |
| Prudent Financial | Interest Rates from 5.75% with 50% max LTV |
| Canadalend(dot)com | Interest Rates from 5.99% with 85% max LTV |
| Clover Mortgage | Interest Rates from 3.99% with 90% max LTV |
| Calvert Home Mortgage | Interest Rates from 7.99% with 80% max LTV |
| Guardian Financing | Interest Rates from 9% with 75% max LTV |
| Trillium | Interest Rates from 5.99% with 80% max LTV |
| Sun Mortgage | Fluctuating interest rates with 75% max LTV |
| Threshold Mortgage Corp. | Fluctuating interest rates with 75% max LTV |
| Clifton Capital Corp. | Fluctuating interest rates with 75% max LTV |
| Craigburn Capital | Fluctuating interest rates with 80% max LTV |
Bad Credit Mortgages By Mortgage Broker
One can face a difficult time if they have a sub-par credit score and are immediately looking for a housing finance. All the major banks will turn their backs on such individuals. But there are quite a few options even in such scenarios. Customers with a bad credit score can always approach a mortgage broker to look for some alternative solutions. A mortgage broker is extremely instrumental in making one home buying dream come true when it comes to bad credit scores. They have their sources and connections, which efficiently comes in handy for a customer. However, a small fee will be attached to getting a consultation from a mortgage broker. Depending on the mortgage amount, this can go as much as a few thousand Canadian dollars.
Can I get a Mortgage with Bad Credit in Canada?
The scope for getting a mortgage refinance with a bad credit score in Canada is not null. There is indeed hope for such borrowers. However, lenders also invest their money with the hope of getting higher returns and, therefore, would not like to see their capital deployment go waste. With that in mind, the banks need to see that the customer is capable of making steady repayments. If that becomes the case, refinancing a mortgage is not a distant reality. Various lenders would be more than happy to assist a customer in the best way possible. Moreover, banks would monitor the borrower income standards and the percentage of income they use to make their interest payment. Hence, the bottom line is that mortgage refinancing with a bad credit score is definitely possible in Canada.
Some final takeaways on how to get a mortgage with a bad credit score in Canada are:
Be responsible and repay all debts as early as possible

Manage spending

Revisit mortgage reports regularly so as to maintain accuracy

Attach medical certificates if past repayment defaults were due to ill health.

Set realistic goals regarding real estate investment

Approach a reliable personality for the undertaking credibility
Bad Credit Mortgage Term Length
A bad credit can hinder an individual chances of meeting several of their goals such as getting a credit card, qualifying for a mortgage, getting a home, renting a home, landing a job, etc. These challenges, however, can be overcome by considering a bad credit mortgage. These mortgages are usually meant for individuals with a credit score lower than 550. In which case, mostly just the private lenders come into play. Speaking of which, private lenders charge higher interest rates as compared to major banks. Furthermore, bad credit mortgages are also deployed by a lender for a term length of 6 months to 2 years. This is the only chance for individuals with lower credit scores to get back on track. They would be required to make a 20% down payment as well. Thus, it is advised only to consider a bad credit mortgage when one can actually afford it.
How To Improve Your Chances Of Getting A Mortgage With Bad Credit?
In order to know how to improve the chances of getting a mortgage with a bad credit score, understand the factors that affect a credit score. The bureaus in Canada monitor every individual old enough to get a mortgage. Although they use different methods and algorithms for a college student and a working professional, generic formulas are still in place. The major factor will be the payment history. The timeline won't matter in this scenario. Whatever an individual takes loans, or financial assistance has to be repaid on a timely basis to be considered a legitimate source for banks to throw in their capital.
Furthermore, other factors such as income-debt ratio, loan applications, savings, loan defaults, expenses, and existing debts are also investigated by the bureaus to assess the performance of the individual. It is only then that they assign a numerical value as a result.
In order to improve the chances of getting a mortgage with a bad credit score, the path to salvation lies in simply being responsible. There aren't any secret tricks to improve credit score. Just timely payment of the debts, and one is good to go.
Can you Refinance your Mortgage with Bad Credit?
Anyone can get a mortgage refinance with bad credit if and only if the person in question can show that they are capable of making the repayment. When deploying capital, the lender is assuming risk factors such as loan default by the borrower, demise of the borrower, and so on. Hence, they first evaluate the property value and income of the customer and monitor the repayment pattern of the individual during the first mortgage. If the bank considers them responsible enough, only then can they get a mortgage refinancing with a bad credit history.
FAQ's
Ans: A bad credit score can affect your mortgage because the interest rates are higher than usual. Moreover, the customer must also consider paying a 20% down payment upfront. Moreover, a bad credit mortgage is usually given for a short term ranging from 6 months to 2 years.
Ans: It will be difficult to get a mortgage sanctioned with no Canadian credit history. But that is the case with major banks. Individuals with no credit history within the territory of Canada can consider the private lenders who can assist them with financing.
Ans: Getting a mortgage post-bankruptcy is very much possible. The individual faced with bankruptcy would be required to get a discharge notice from the bank and wait for a minimum of 2 years and one day before they can apply for a mortgage.
Ans: Anything below 550 credit score points is considered to be a bad credit score. After this point, an individual will have limited options with increased costs. They can approach a private lender for a bad credit mortgage and take that opportunity to improve their credit score.
Ans: It is usually advised to assess your credit score at least 6 months before applying for a mortgage. And in case of a bad credit score, fixing them as early as possible is important. You can consider a bad credit mortgage from a private lender and take the opportunity to make the necessary amendments. bad credit mortgage - 880