Mortgage Option
Mortgage Eligibilty

Calculator
Quickly calculate Monthly Mortgage
Calculate Eligibility
Mortgage Payment Calculator

Mortgage Amortization

Eligibilty
Find out monthly and annual payments
Calculate Eligibility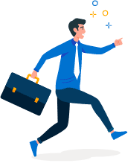 Land Transfer Tax

Eligibilty
Quickly calculate land transfer tax
Calculate Eligibility
Land Transfer Tax Calculator

There are business owners and entrepreneurs that need a space to create, collaborate and grow their businesses. Then there are those that are looking to expand their territories to new grounds. However, properties and real estate are never easy to get a hold of. And depending on the market pricing, location, and other factors, the rates may be unaffordable to many. What comes off as a wedge to the problem of this financing is a commercial mortgage.
A commercial mortgage is a monetary assistance availed from a financial institution for funding a property that is specifically intended to be used for a commercial purpose. These can include partnership firms, limited companies, or corporations. Furthermore, just like a traditional mortgage, the commercial property is used as collateral until the borrowed amount is repaid in full.
What are Commercial Mortgage Rates in Canada?
The commercial mortgage rates in Canada, calculated to be higher than traditional housing mortgages, stand at about 5% along with 2% insurance. For the insured mortgages, Canada Housing Mortgage Corporation (CHMC) plays a regulatory role in which the mortgages are linked with the Canada Mortgage Bond (CMB). The current CMB yield is set to be within the range of 4.22% to 4.42%. Other than that, the 5-year conventional mortgage rate stands within the range of 5.82% to 9.82%. The CHMC rates currently are fixed within the range of 4.72% and 6.82%.
Commercial Mortgage vs Residential Mortgage
There is a significant distinction between commercial and residential mortgages. The basic differences are based on the purpose of both the mortgage types. On one hand, a residential mortgage is meant for buying or refinancing a non-profit housing real estate whereas a commercial mortgage is taken for any income-generating property which can include a commercial plaza, construction project, farmland, industrial plot, stores, and so on. Speaking of the mortgage rates, the commercial mortgage has faired higher than its residential counterpart.
The amount of liquidity one can generate from a commercial mortgage is as much as 85% of the property value. This loan-to-value ratio can be seen higher with residential mortgages which stand at 95% of the house value. Furthermore, the payback period also varies among these types with a maximum of 40 years for a commercial mortgage and 25-30 years for a residential mortgage. Insurance service is available for both mortgage types.
Commercial Mortgage Rates
The commercial mortgage rates from the top-tier lenders are always a better choice than to explore from unestablished financial startups. The rates generally start from 4% to 5% with an additional 1% to 2% insurance charges. The lenders to consider are Loans Canada, Lending Loop, and Commercial Mortgage Canada. The rates for the mentioned financial institutions are as follows:
| | |
| --- | --- |
| Loans Canada | Rates within 5.49% to 25%, depending on credit score. |
| Lending Loops | Commercial mortgage rates range from 5.9% to 26.50% |
| Commercial Mortgage Canada | Rates start at 1.04% |
Type of Commercial Mortgage
The types of commercial mortgages mostly depend on the property type as the real estate distinction directly affects the loan-to-value ratio. The LTV ratio along with other factors determines the amount of mortgage the borrower is eligible to receive. Know more about the types of commercial mortgages that are sanctioned as per the property type.
| | |
| --- | --- |
| Storefront residential apartments | 80% of the property value |
| 1 to 4 unit family residentials | 85% of the property value |
| 5 or more unit family residentials | 85% of the property value |
| Commercial plaza | 75% of the property value |
| Office spaces | 75% of the property value |
| Industrial spaces | 75% of the property value |
| Farmland area | 55% of the property value |
Commercial Mortgage Insurance
A commercial mortgage insurance can be highly beneficial for the borrower for several reasons. Firstly, in case of any untimely demise of the borrower, the repayment pressure will be taken care of from the insurance. Moreover, there could be uncurable injuries that can happen, and in those cases, life insurance can put away much of the financial pressure off the customer and their relatives. Furthermore, individuals who have enough savings to manage their expenses can still benefit from insurance as it can take ones mind away from the pressure to use their savings in case of an emergency.
Not only that, with CHMC coming into the picture, there are several features that will adjoin with the commercial mortgage insurance schemes. This will include a funding term period of up to 10 years, an extension of the amortisation period, lesser down payment, improving the value of the insured property, help the property qualify for fixed and flexible interest rates, and much more.
Commercial Mortgage Broker Fee
There are plenty of commercial mortgage brokers that can assist customers looking to finance their commercial property. They come in handy as brokers have a well-established network with various bankers and are thoroughly familiar with the extensive mortgage sanctioning process. The mortgage brokers will charge a small fee for helping customers land a deal. This can go as much as a few thousand Canadian dollars depending on the loan amount.
Commercial Mortgage Features
Some of the interesting features of a commercial mortgage include the following pointers:
Customers can avail of commercial mortgages of up to CAD 5,000,000

Easy online application process

Minimal lender fee of about 1%

With a good credit score, one can get a sufficient amount of financial aid

Availability of mortgage for a variety of commercial properties

Attractive and competitive commercial mortgage rates

Accessibility from any Canadian province
Eligibility Requirements For A Commercial Mortgage
Applying for a commercial mortgage is not an easy task. There are various parameters that the applicant must meet. The lenders assess these criteria before making the final decision to sanction the mortgage. This is mainly due to the fact that commercial mortgage comes with risks pertaining to elevated loan-to-value. The parameters are as follows:
Capacity to make a down payment: The applicant must be able to give some amount of the loan upfront in the beginning. This will majorly depend on the mortgage amount. The banks assess if or not the customer has the capacity to do so.

Business Venture: Another factor that lenders consider is the gravity of the borrower business idea. Lenders need to be sure that they are investing in a decent income-generating line of work. The borrower might need to be convinced that their occupation has the potential to commence a reasonable profit over the years.

Profitability: Some banks require a minimum profit revenue from the business. The borrowers would be needing to show their financial statements to prove that.

Borrowing History: This goes without saying that the credit history of the borrower matters a lot. There need to be minimal debts compared to the previous financial assistance taken.
What To Consider Before Getting A Commercial Mortgage
Commerical Mortgages can be tricky as there are plenty of parameters to fully understand. With that said, there are a few pre-requisite factors to consider before getting a commercial mortgage. Firstly, assess the kind of business you own. It is important since banks exclude a few real estate kinds for loan sanctions. The acceptable property types include Multi-unit residential, retail plazas, strip malls and shopping centres, office buildings and medical centres, and industrial buildings.
Consider your financial situation because borrowing a mortgage means a monthly recurring expense. It is prudent to look where you leap. Given that commercial mortgages are limited with the property type, the income generation capacity also matters.
Get a pre-approved commercial mortgage agreement. Banks will evaluate the property value and other relevant documents before giving final approval. Make use of a commercial mortgage calculator so as to make an expense estimation.
If required, work with a commercial mortgage broker as they have tie-ups with several financial institutions. They can potentially help you in choosing the right kind of mortgage lenders that suits your needs. Brokers will charge a loan sanctioning fee which will not be more than a few thousand Canadian dollars.
Be ready with all the documents that will be required for submission during the application process. These documents will include a letter of employment or commencement of business, tax return slips, a notice of assessment, bank statements, statement of assets and liabilities, agreement of purchase, identification certificates, etc.
FAQ's
Ans: A commercial mortgage is meant for real estate properties that are owned and managed for corporate purposes. This can include a commercial plaza, construction projects, farmland, industries, residential units, storefronts, and so on. So whoever is owing or looking to invest in any of these properties is eligible to apply for a commercial mortgage.
Ans: A commercial mortgage service is available with numerous financial institutions including the likes of CIBC and the Bank of Montreal.
Ans: Origination fees generally range between 0.5% and 1% depending on the lender and negotiations. Brokerage Fee: borrowers who use a broker will also be charged a broker fee as part of their commercial real estate closing costs.
Ans: Usually commercial mortgage in Canada is lent for a duration of 25 years. However, in the case of an insured commercial mortgage, the extension of the amortisation period is possible. The borrower can extend the repayment period to as much as 40 years in that case. However, much will also depend on the amount of the mortgage.
Ans: Commerical mortgage rates are higher as compared to a regular housing mortgage or mortgage refinancing. This is mainly owing to the fact that commercial mortgages involve higher mortgage amounts. Furthermore, the risk factor plays a huge role for the lenders to set the commercial mortgage rate slabs.
Ans: Commercial property mortgages are tax-deductible in certain specific cases namely, insurance, heating costs, mortgage interests and property taxes to mention a few.