Mortgage Option
Mortgage Eligibilty

Calculator
Quickly calculate Monthly Mortgage
Calculate Eligibility
Mortgage Payment Calculator

Mortgage Amortization

Eligibilty
Find out monthly and annual payments
Calculate Eligibility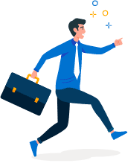 Land Transfer Tax

Eligibilty
Quickly calculate land transfer tax
Calculate Eligibility
Land Transfer Tax Calculator

What is a Mortgage Refinance?
A mortgage refinance is simply getting a new mortgage with new terms and conditions from the same lender or an entirely different financial institution. The primary purpose of getting a mortgage refinance is to pay off the remaining loan payment and establish an updated interest rate. Customers can get up to 80% of their houses revised price, which can help them re-establish their mortgage repayment tenure. Mortgages are refinanced usually from 6 months to 3 weeks before reaching the end of the amortisation period of the primary mortgage. Borrowers here get an opportunity to make a lump sum payment to the existing mortgage lender and move on to their new provider.
Should I Refinance My Mortgage?
There are cases where refinancing would make sense and cases where it wouldn't. The decision to consider a mortgage refinance scheme depends on several factors. The major reason that people consider mortgage refinancing is due to the fact that competitive interest rates can help borrowers save up their valuable money. If another lender offers an interest rate lower than the existing one, the natural move will be to consider the former.
Moreover, if a mortgage is already in progress, the chances are that the borrower is the owner of a large part of the home equity. This will make getting a mortgage refinance agreement with any bank easier.
Another important factor to consider is the duration that one is gauging to live in the same house. Since paying a mortgage is a long-term gig, living in the house for that long is imperative. Otherwise, considering a mortgage refinance is not a good idea.
Pros & Cons of Refinancing a Mortgage
Advantages of refinancing a mortgage include locking on a lower interest rate than the existing one. This can potentially save a lot of the borrower money. Furthermore, you can negotiate for a lesser duration of mortgage repayment with a lower interest rate which can get you off the mortgage faster. A Mortgage Refinance program can help you with additional cash assistance, which you can use to pay back the existing mortgage and also invest in meeting your extended goals.
On the contrary, disadvantages of having a mortgage refinance can be several as well. For example, the interest rate changes could be minimal, which in turn can lead to minimal savings only. If not applied in advance, the whole process of getting a mortgage sanctioned can take up a lot of time. Lastly, there are charges involved when applying for a mortgage refinance scheme, including a prepayment penalty and processing fees.
How Much Can I Borrow Through a Mortgage Refinance?
Most banks offering a refinance might ask the customer to have their home evaluated. They use the data to determine how much amount to disperse. This can be around 65% in Canada, and depending on the lender, it can go up to 80%.
How Do I Use My Home Equity?
You get home equity when you take away the mortgage balance from the property current market value. When owning a home for a few years, there is a good chance that the owner has built reasonable home equity in their name. This can be crucial in using home equity to make appreciable investments. There are quite a few ways in which one can use this resource to get some attractive monetary aid from financial institutions. These can include refinancing through a home equity loan, a home equity line of credit, a reverse mortgage, a second mortgage, or a traditional mortgage refinance. Below are some tips to keep in mind:
Consider the percentage of equity you currently have. This step can include doing a home evaluation and calculating the mortgage already paid off.

Usually, banks do not provide loans on total home equity. Therefore, assessing the financial goal and ascertaining the amount required is imperative.

Look for lenders with ideal policies and interest rates that suit your needs and your budget.

Enquire about the charges involved in processing the mortgage refinance.

Apply through the bank website or by visiting the branch.
It will be prudent to pay off the mortgage debts as soon as possible as whatever outstanding mortgage amount is, it will not be considered in the tax benefits. Therefore, getting a refinancing can only be effective as much as you are clearing your debts in time.
Risks Involved With Refinancing a Mortgage
Although there are numerous reasons to consider refinancing a mortgage, they do not come without their associated risks. It is highly recommended to understand the risks attached to mortgage refinance thoroughly.
Firstly, property appreciation is a highly risky area in itself. Not all houses find their way to a better market value. There are various reasons why that would be the case. To name a few, poor home design, lack of land, deteriorating physical conditions, and legal and political issues, to name a few. Taking a loan on such a property would result in the customer paying more than they actually should.
Mortgage closing policies should be read and understood properly as they can go pretty high and can become more of a burden than a blessing.
Cost of Mortgage Refinance
There are costs associated with refinancing a mortgage. From processing charges to prepayment penalties to legal fees, there is an array of fees levied on a customer. To know them before applying can prove to be beneficial in terms of estimating an overall cost. The cost of mortgage refinance can be noted down as shown below.
The charges for switching lenders vary across Canada. Each province can have its own charges pertaining to changing a mortgage lender.
| | | | | | |
| --- | --- | --- | --- | --- | --- |
| Provinces | CIBC | Scotia Bank | TD Bank | RBC | BMO |
| British Colombia | CAD 75 | CAD 75 | CAD 75 | CAD 75 | CAD 75 |
| Alberta | CAD 75 | CAD 0 | CAD 260 | CAD 5 | CAD 0 |
| Manitoba | CAD 260 | CAD 200 | CAD 260 | CAD 250 | CAD 100 |
| Saskatchewan | CAD 260 | CAD 200 | CAD 260 | CAD 250 | CAD 200 |
| Ontario | CAD 260 | CAD 270 | CAD 263 | CAD 250 | CAD 200 |
| Quebec | CAD 0 | CAD 0 | CAD 300 | CAD 0 | CAD 0 |
| Nova Scotia | CAD 260 | CAD 200 | CAD 250 | CAD 25 | CAD 200 |
| New Brunswick | CAD 260 | CAD 200 | CAD 260 | CAD 250 | CAD 200 |
| Prince Edward Island | CAD 260 | CAD 200 | CAD 250 | CAD 25 | CAD 200 |
| NewFoundLand & Labrador | CAD 260 | CAD 200 | CAD 260 | CAD 50 | CAD 200 |
| Nunavut | CAD 260 | CAD 200 | CAD 260 | CAD 250 | CAD 200 |
| North Western Territories | CAD 260 | CAD 200 | CAD 260 | CAD 250 | CAD 200 |
| Yukon | CAD 260 | CAD 200 | CAD 260 | CAD 250 | CAD 200 |
The registration fee for any bank will cost the customer around CAD 70

Legal fees can vary from CAD 700 to CAD 1000. If the loan amount is more than CAD 200,000, the lender does pitch in with the legal fees.
FAQ's
Ans - You can apply for a mortgage refinance as often as you want. There is no legal limit to doing so. However, the bank that is providing the service might request you to consider a waiting period before you can apply with them.
Ans - Mortgage refinancing in case of low-interest rates only makes sense if the new lender is offering even lower interest rates. The general understanding is that you should be getting a benefit of two per cent, to begin with. Even one per cent is reasonably suitable to take off much of the interest payment pressure.
Ans - In Canada, one can consider refinancing their mortgage between six months and three weeks before the end of the amortisation period. This period is crucial as there could be prepayment penalties in other scenarios. Also, when gauging for a mortgage refinancing, it is prudent to start shopping for lender rates well in advance.
Ans - There general consideration among lenders is that one should own at least 20 per cent of the home equity to be eligible for additional financial assistance against the house. Then again, the equity ownership will be a factor that the banks will consider in determining how much mortgage to provide.